Welcome to Dromore Cathedral
Dromore Cathedral has been at the heart of Dromore for centuries. We serve the community of Dromore by bringing Christ's compassion, love and hope of salvation to people of all ages.
Just as relevant as ever, we believe Christ and his radical teaching to be the only solution to the problems of our country, town and selves. We invite you to join us on our journey as we discover how to be everything he called us to be.
Latest News
Andrew Cuthbert
The Select Vestry is seeking to appoint an organist to lead worship, train the Cathedral Choir as required and work with the Praise Team Leader to enhance the worshipping life of the Cathedral.
For further details and an Application Form, including Job Description, please contact the Dean of Dromore:
The Very Revd Geoff Wilson
Email: revgeoffwilson@gmail.com
Closing date for receipt of Applications:
12 noon Friday 25th November 2022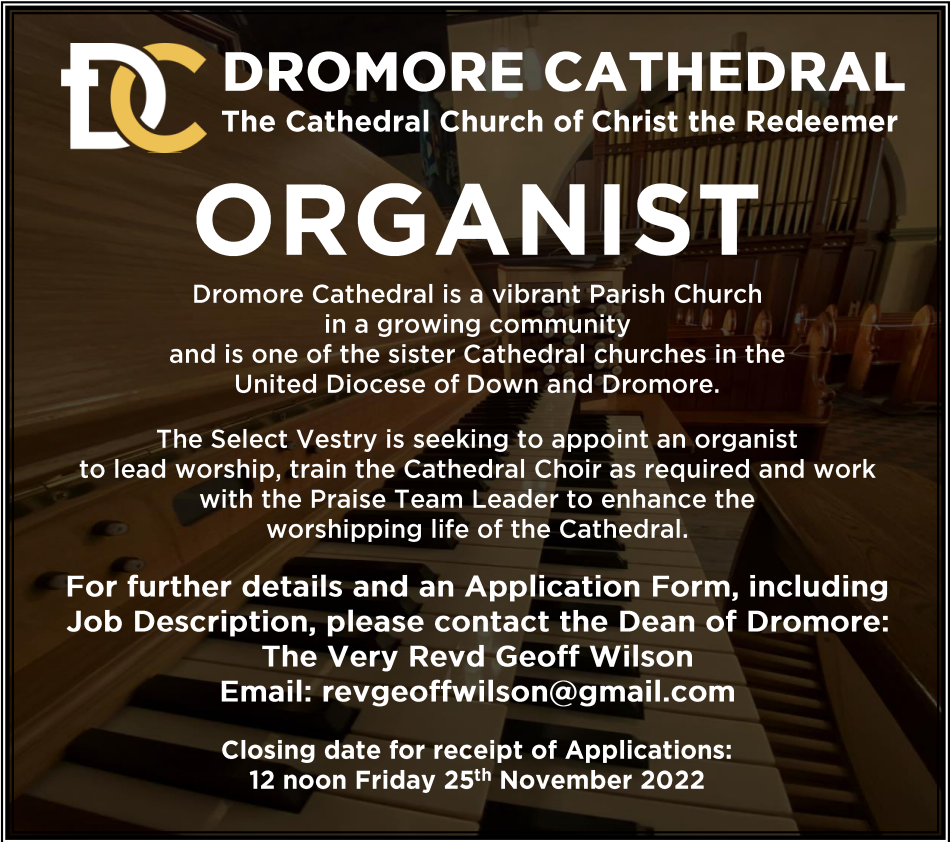 Andrew Cuthbert
Following the death of Her Majesty Queen Elizabeth II, the cathedral will be open for times of quiet reflective private prayer each day this week. The Baptistry door will be open between 11:00am and 1:00pm and again between 5:00pm and 7:00pm each day, Monday to Saturday inclusive.
On Sunday evening we will be holding a special service of reflection and thanksgiving for the life of Her Majesty. The service is at 6:00pm and everyone is most welcome to join us. It will also be live-streamed at this link: https://youtu.be/Z4MVeC2zFeY